What is the quality Solar Road Studs like?
Product Description:
Solar Road Studs is a new type of active luminous warning product for road traffic facilities. It uses solar panels as charging components, batteries or capacitors as energy storage components, and uses LEDs to emit light or combine with reflectors to emit light. It is mainly set on the edge of the road and on the divider of the fast and slow lanes. It is generally used in combination with the marking.
Function: It can send out a warning flashing light at night, improve the driver's attention, reduce the possibility of collision and collision of vehicles, and reduce traffic safety accidents.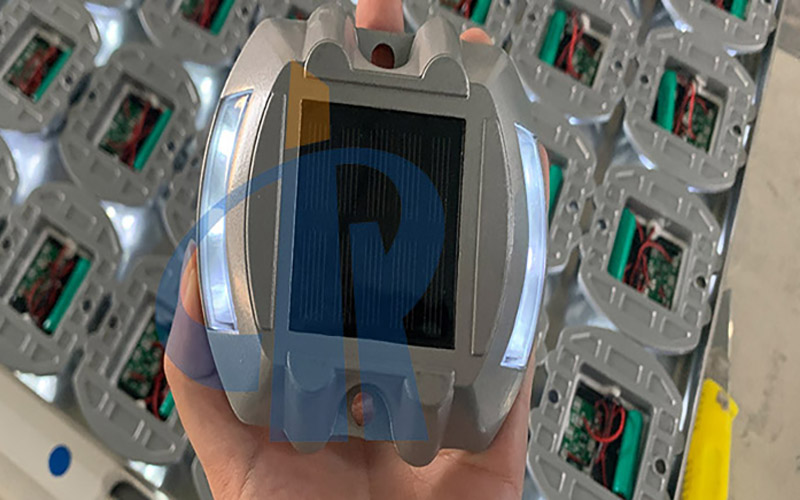 Performance characteristics
1. The shell is formed by a mold at one time and does not need to be combined, which effectively improves the pressure resistance. The solar panels, electronic components and LEDs are sealed in the shell through a special technology, which is extremely waterproof, and can be used on long-term water-filled roads. ;
The surface of the solar panel adopts wear-resistant treatment (adding a wear-resistant layer) to ensure that it will not be worn, thereby ensuring the photoelectric conversion efficiency of the solar panel; 3. This product adopts Taiwan's intelligent control IC and the original precision potentiometer of the United States. , The high temperature resistant rechargeable battery of famous factory ensures the service life and performance of the product. 4. High luminous brightness: The reflective brightness of Reflective Studs is only 300-400MCD, while the luminous brightness of Solar Road Studs can reach more than 4000 MCD, which is 10 times that of the former. High-intensity light can penetrate rain and fog at night, safely and effectively Provide directions for the driver. 5. Active lighting and dynamic warning: Solar Road Studs uses high-brightness LED flashing to remind the driver, with strong penetrating power, and the effective visual distance can reach 1000 meters. 6. Utilizing high-efficiency imported monocrystalline silicon solar panels, it can still be charged even in bad weather conditions such as rainy days and snow.
The number of LEDs can be selected as single-sided or double-sided according to needs; 8. The installation methods are very simple, convenient and firm. No wiring required.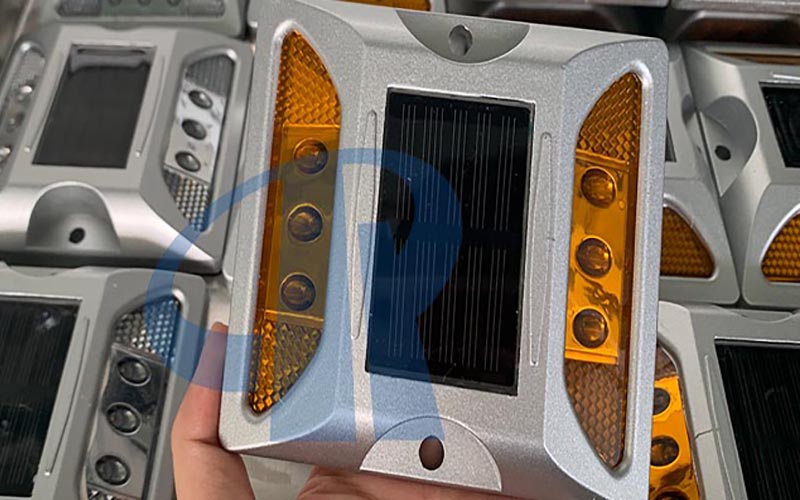 Solar Road Studs combines the functions of solar LED lighting and long afterglow lighting. After an 8-hour exposure, the continuous self-luminous time can be more than 120 hours, and the brightness of the night light can always be maintained above 10000 mcd/㎡. Compared with traditional solar traffic sign products, this product has a wider range of applications. It can be used on highways, expressways, country roads, greenways and other roads; it can also be used on municipal roads, parks, factory areas, and outdoor parking. Fields, school entrances, community intersections, squares, underground garage entrances and many other outdoor places. In particular, Solar Road Studs protruding road signs overcome the problems of traditional solar raised road signs that are not suitable for non-motorized vehicle drivers or ordinary pedestrians caused by the small light-emitting area and excessive strobe light. Because the product of the present invention does not require electricity, it is a truly green, energy-saving, environmentally friendly and safe product, and has very broad market prospects and social benefits.